Posted on Nov 07, 2009 in
Alt Energy, Tiny Homes, & Structures
Tiny Homes: Bicycle Trailers, Shopping Cart Campers, and more!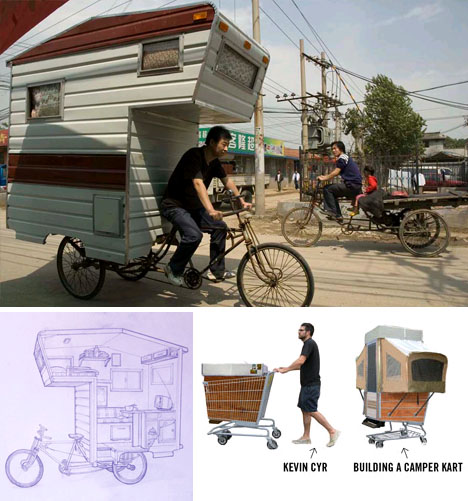 Kevin Cyr seems obsessed with mobile homes and portable living.  In his astonishing 'duh!' concepts, he manages to pack a lot of room (bed,  lighting, storage and much more) into the smallest of interior spaces.
His first full-size project – a creative camper bike creation – is an uncanny small-scale replica of a typical mobile home. In fact, it is arguably more surreal for this remarkable resemblance to conventional car-attached campers, complete with faux wood siding, simple windows and basic door. He has sketched, painted and drawn the work in addition to photographing the finished product in action.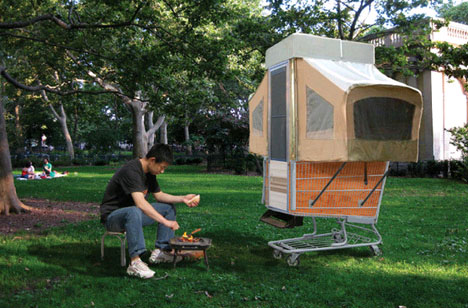 If the bicycle trailer concept is an exercise in overt simplicity and aesthetic similarity, the camper cart could be characterized as the opposite: a project involving subtlety and stealth, a hidden home that looks like an ordinary shopping cart until it is unfolded and converted to an (albeit very small) mobile living space. Naturally, one can see applications of this in tent cities and other urban homeless populations.
Reposted from a great website; DorNob.
If you have never been to DorNob or WebUrbanist, then hit the links and check'em out!
I give both sites (both owned and operated by the same person) a A+ in form, fashion, and interesting culture!
Tiny URL for this post: http://tinyurl.com/yenqyk9